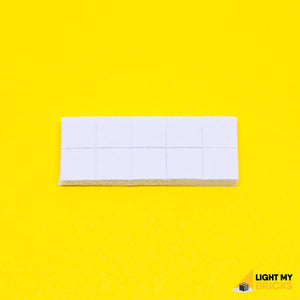 ADHESIVE SQUARE (10 PACK) BY LIGHT MY BRICKS
Our Adhesive Squares are great for mounting Expansion Boards as well as Bit Lights to ceilings and walls.
We recommend applying two Adhesive Squares per expansion board.
Each pack contains 10 Adhesive Squares.
Light My Bricks LEGO® Lighting Components provide an easy DIY way for LEGO® fans to customize their models using LED lights. With a wide variety of colours, lighting options and effects, anyone can light up their LEGO® set.
All our components are plug and play - no electronics knowledge needed!
User Guide
Our User Guide is a great resource that outlines proper component handling and installation with LEGO® models.