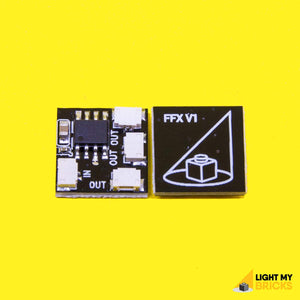 Flicker Effects Board by Light My Bricks
Regular price $10.89 Sale
This Flicker Effects Boards is great for achieving a more realistic fire or water flicker effect. Physical dimensions are 13mm width x 13mm length x 3mm height. It contains 3 output channel and 1 input channel. Each output channel will flicker at a slightly different rate.
Please note: If you wish to combine this effect board with other lights, expansion boards, and connecting cables you will require the AA Battery Pack for the input port. If you wish to just use the 2 output ports for 2 bit lights then the Flat or Round Battery Pack will be fine.
Light My Bricks LEGO® Lighting Components provide an easy DIY way for LEGO® fans to customize their models using LED lights. With a wide variety of colours, lighting options and effects, anyone can light up their LEGO® set.
All our components are plug and play - no electronics knowledge needed!
User Guide
Our User Guide is a great resource that outlines proper component handling and installation with LEGO® models.