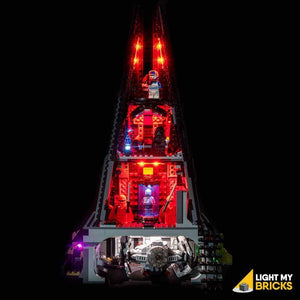 Lighting Kit for STAR WARS DARTH VADER CASTLE 75251 (BUILDING SET NOT INCLUDED) by Light my Bricks
Regular price $75.39 Sale
The LEGO Darth Vader's Castle (75251) set is a recreation of the Sith Lord's formidable fortress. Set on the planet Mustafar, and on top of molten lava, this ominous looking model comes with a whole host of features, including the dark lord's bacta tank, ancient Sith shrine, meditation chamber and lots more!

Totalling at 1,060 pieces, Vader's lair also comes with a playable TIE Advanced fighter and numerous minifigures to recreate scenes from the films, comic books and other Star Wars media.
For Star Wars fans, this is a great set to house everyone's favourite dark side overlord. That's why here at Light My Bricks, we've gone to great lengths to turn this monolith of fear into a truly standout piece in your collection.
Our Darth Vader's Castle LEGO light kit comes with 24 individual lights and is full of various effects to create a realistic and interactive diorama. On Vader's Castle, there are lights in each individual room. Flickering effects are applied to the holocron and bacta tank to give a realistic effect. Flashing lights are also applied to the TIE fighter hangar and a glowing effect is given to lava to give a burning effect.
We have also included a red lightsaber light so that Vader can wield his weapon and strike fear into his opponents!
With easy to follow instructions, our LEGO light up kit has all the components you need to turn Vader's Castle into a realistic fortress of fear!