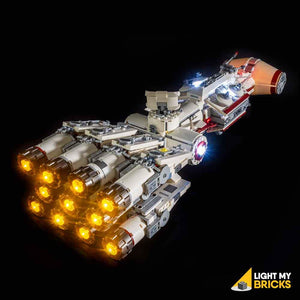 Lighting Kit for Star Wars Tantive IV 75244 (BUILDING SET NOT INCLUDED) by Light my Bricks
Regular price $90.74 Sale
The LEGO Star Wars Tantive IV (75244) is the latest version of one of the earliest ships shown in the original Star Wars movie, A New Hope. With the Death Star plans on board, Princess Leia tasks R2-D2 and C3-P0 to deliver a message to Obi-Wan Kenobi for assistance.
This latest recreation is the third version of the Tantive IV ship, which was initially released back in 2001. Fans of the Star Wars franchise will instantly recognise this set and should be pleasantly pleased with the design and features available.
This Star Wars LEGO set comprises of 1,768 pieces and is packed full of details and playability that will put a smile on any Star Wars fan's face. And to add a real touch to your collection, we've released the perfect addition through our Light My Bricks Tantive IV LEGO lighting kit.
26 individual lights have been applied to this custom LEGO light kit. This includes illuminating the rear engines, and mounting lights on all the defensive cannons. To create an extra layer of realism, we've applied our new "gun effects" board, which controls the pulsing of the lights to create an authentic laser type effect. We've also included a wireless power connector to allow separation of the main canopy without having the disassemble your lights.