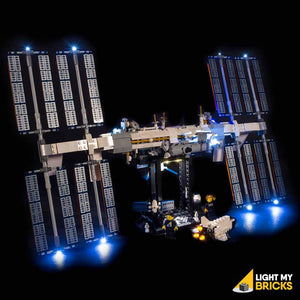 LIGHTING KIT FOR INTERNATIONAL SPACE STATION 21321 (BUILDING SET NOT INCLUDED) BY LIGHT MY BRICKS
Regular price $59.99 Sale
The International Station Space for over 20 years represents the collaborative efforts from multiple nations and their pursuit for space exploration. This LEGO Ideas release is a faithful representation of the ISS.
The Light My Bricks Light Kit contains an array of carefully selected lights to illuminate your Space Station set. Fitted with 17 individual lights, including flickering lights for the shuttle's engines, your ISS will come to live with space exploration activity!
Light My Bricks LEGO® Lighting Kits provide an easy way for LEGO® fans to customize their models using LED lights. With detailed, step-by-step instructions, anyone can light up their LEGO® set.
All our kits are plug and play - no electronics knowledge needed!
PLEASE NOTE: THIS SET IS A LED LIGHTING KIT ONLY. ALL LEGO® SETS FEATURED IN IMAGES AND VIDEOS ARE SOLD SEPARATELY.
THIS KIT CONTAINS:
12x

Bit Lights (Cool White, Blue, Flashing White)

3x

White Micro Bit Lights

1x

White Strip Light

5x

Expansion Boards

1x

Flicker Effects Board

6x

 

Connecting Cables

1x

 

USB Power Cable

12x

Ahdesive Squares

7x Assorted LEGO® pieces for assembly

IMPORTANT NOTE
This lighting kit is powered by aUSB Power Bank or USB Power Adaptor (to connect to a mains outlet), which is NOTincluded in this kit. If you do not have a USB Power Bank, you can purchase them from ourPowering section.
INSTALLATION GUIDE
User guide instructions for our kits can be found on theUsers Guides section of our website.