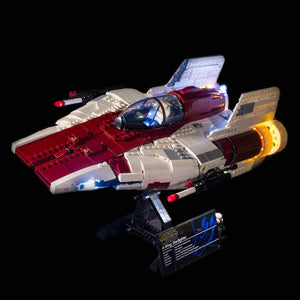 Lighting Kit for Star Wars A-Wing Starfighter 75275 (Building Set Not Included) by Light My Bricks
Regular price $64.99 Sale
Making its appearance in Return of the Jedi, the A-Wing Starfighter proved to be a valuable asset in the Rebels fight against the evil empire.
LEGO® have finally given the A-Wing the UCS treatment, giving this single-pilot craft the Collector's Edition touch for a hyper-realistic rendition of the classic spaceship. 
With 1,673 pieces and display worthy detail, Light My Bricks have brought light speed capabilities to this model with a custom light kit fitted with 16  individual lights, including special large size bit lights for the rear engines + pulsing effects, and firing gun effects for the side cannons.
PLEASE NOTE: THIS SET IS A LED LIGHTING KIT ONLY. ALL LEGO® SETS FEATURED IN IMAGES AND VIDEOS ARE SOLD SEPARATELY.
THIS KIT CONTAINS:
14x

Bit Lights (Large Warm White, Cool White, Red)

1x

 

White Strip Light

3x

Expansion Boards

1x

Pulse Effects Board

1x

Gun Effects Board

4x

Connecting Cables

1x

USB Power Cable
LEGO PIECES:
3 x Assorted LEGO® pieces for assembly
IMPORTANT NOTE
This lighting kit is powered by a USB Power Bank or USB Wall Adaptor(to connect to a mains outlet), which is NOT included in this kit. If you do not have a USB Power Bank or USB Wall Adaptor, you can purchase them from our Powering section.
INSTALLATION GUIDE
User guide instructions for our kits can be found on the Users Guides section of our website.