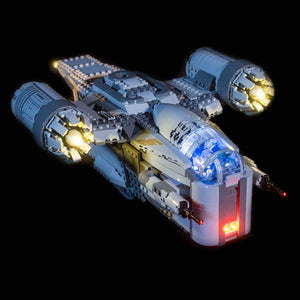 Lighting Kit for Star Wars The Razor Crest 75292 (Building Set Not Included) by Light My Bricks
Regular price $64.99 Sale
Continuing with the tradition of introducing iconic spacecraft into the sci-fi sphere, the hit Star Wars series The Mandalorian brings us another beauty in the shape of The Razor Crest. 
Piloted by "Mando" (no spoilers here), The Razor Crest was once a military craft used by the Galactic Empire - now turned into a bounty hunter gunship. 
LEGO's rendition of The Razor Crest will put a smile on the faces of Star Wars and The Mandalorian fans and when coupled with a Light My Bricks Razor Crest light kit, those smiles will truly light up! 
Armed with 15 individual LEDs, this light kit boasts a range of effects like flicker effects for the twin engines, shooting gun effects for the laser cannons and internal lighting that activates when the rear hangar door is opened! This is the way!
PLEASE NOTE: THIS SET IS A LED LIGHTING KIT ONLY. ALL LEGO® SETS FEATURED IN IMAGES AND VIDEOS ARE SOLD SEPARATELY.
THIS KIT CONTAINS:
12x

Bit Lights (Large Warm White, Cool White, White, Red)

1x

 

Warm White Strip Light

1x

Expansion Board

1x 

Flicker Effects Board

1x

Gun Effects Board
1x

 

NC Push Board

4x

Connecting Cables

1x

USB Power Cable
LEGO PIECES:
11 x Assorted LEGO® pieces for assembly
IMPORTANT NOTE
This lighting kit is powered by a USB Power Bank or USB Wall Adaptor(to connect to a mains outlet), which is NOT included in this kit. If you do not have a USB Power Bank or USB Wall Adaptor, you can purchase them from our Powering section.
INSTALLATION GUIDE
User guide instructions for our kits can be found on the Users Guides section of our website.