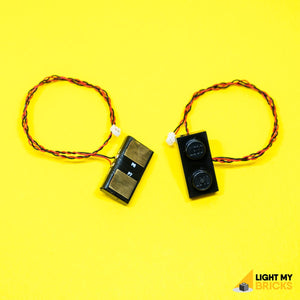 Wireless Power Connector (2 packs) by Light my Bricks
Regular price $14.44 Sale
Wireless Power Connectors are great for Modular Buildings. Use these power connectors in between each floor to allow you to remove the floors easily without being restricted to connecting cables. Our connectors now allow for increased playability of your LEGO sets.
Each piece comes with a 15cm connecting cable and are available in a set of 2 (4 pieces all together)  to allow you to install them to 2 levels. 
Light My Bricks LEGO® Lighting Components provide an easy DIY way for LEGO® fans to customize their models using LED lights. With a wide variety of colours, lighting options and effects, anyone can light up their LEGO® set.
All our components are plug and play - no electronics knowledge needed!
User Guide
Our User Guide is a great resource that outlines proper component handling and installation with LEGO® models.